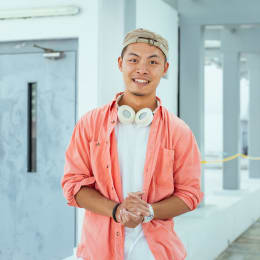 About Armie
Location:

Yuen Long

Languages:

English, 中文

Response time:

less than 7 hours
I am suuuuuuch an enthusiast that I am interested in simply too many things: I make music, write, teach kids, and work in theater, but my biggest passion is to see faces and share interesting stories, and most definitely, to make friends and have a good time.

I am an energetic, passionate, fun (often goofy) local guide. I show people the most authentic and special side of Hong Kong. But here, I am more than happy to invite you to experience something you have never thought of-- hmmmm what would that be? Let's not spoil the surprise. But I will also share with you lots of interesting stories, including mine. ;-)

So pick me! And join me and I will do my best to make your trip unforgettable!
Read reviews
(86)
Armie offers:
100% personalized local things to do & food experiences
Things to Do & Things to Eat by Armie
Guest reviews about Armie