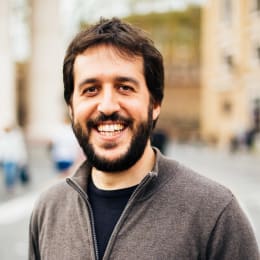 Your private guide:
Andrea
About Andrea
Location:

Rome

Languages:

English, italiano

Response time:

less than 5 hours
Hey there!

My name is Andrea, 37 years old
...born and raised in Rome!

After my High School studies in Humanities
and my University degree in European Law,
I've always worked in the hospitality field,
following my love for travels, good food, fine arts
and international people!

Why here? Because I feel this is a new and smart
"social network" helping people of different cultures
to connect with each other by symply sharing their interests,
skylls and passions.

...In my case, basically the love for such a amazing City!

See you soon in Rome,
Andrea
Read reviews
(275)
Andrea offers:
100% personalized local things to do & food experiences
Guest reviews about Andrea
A must do when visiting Rome!
Andrea was so amazing and knowledgable! We had an awesome time and really appreciated everything Andrea had to offer! Thank you so much Andrea ☺️
May 22, 2017
Highlights and Hidden Gems of Rome
Andrea brought the history of Rome to life during a three hour personal tour of the City for my husband and I, his knowledge was excellent and he readily answered all of our many questions. We appreciated his tips on nice areas to explore and the delicious pastry treats enjoyed in a local cafe. I can't recommend him enough, he made our three day mini break even more memorable. Thanks Andrea.
May 18, 2017
Amazing guide
Andreas was an amazing guide. I booked him as a surprise for my parents who were in Rome for my mother's 60th birthday. He introduced them to the city perfectly and had huge knowledge of its history. Thanks Andreas!
May 16, 2017
Rome Tour
Andrea was an exceptional tour guide! We learnt so much about Rome and insights and tips shared really helped set up the rest of our trip. We never once felt rushed he was very mindful and looked after us throughout our tour. Anyone thinking about booking with Andrea - I would say book it! You wont be disappointed. Thank you Andrea for making our trip a very special and memorable one.
May 13, 2017
The Perfect Guide
I booked Andrea for the Hidden Gems tour and I wasn't disappointed. Andrea is incredibly personable and easy going, with a wonderful knowledge of Rome's history from classical and renaissance Rome through to modern day Rome. Although I've visited Rome on many occasions Andrea opened up a whole new area of Rome I hadn't paid much attention to before. His knowledge of antiquities, art, and architecture is remarkable and he possesses a real skill in communicating his knowledge in a kind and friendly manner, and with a sense of humour as well. Grazie mille Andrea!
May 12, 2017