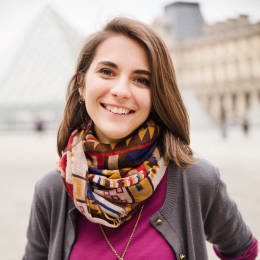 Your private guide:
Alice
About Alice
Location:

Paris

Languages:

English, Français, Italiano

Response time:

less than 8 hours
Hi, my name is Alice, and I study History of Art in Paris, at the Sorbonne University. I also work part-time at the Louvre, and I am very passionate about all things history, museums, monuments and art in Paris.

I have lived in Paris for 3 years now, but I am Italian and prior to coming to France, I studied fine arts in Milan. Yes, I am very lucky to have stayed in two of the most artistic countries in the world!

Art is my biggest passion, however, I also love nature and travelling. I love to discover green places in Paris; parks off the beaten path, and unique hidden gardens. Increasingly, there are more and more restaurants, shops and places to see that stay in touch with nature, which I enjoy discovering. I can show you all about these spots, if you want a mix of city-life with beautiful nature.

I really love meeting new people, speaking about different nations and and generally learning from those who live all over the world. Paris is a real melting pot, so you find friends from everywhere.

So let me introduce you at my Paris, a city made by art and history, but also with relaxing and unique places! I'd like to design a tour especially for you!
Read reviews
(47)
Alice offers:
100% personalized local things to do & food experiences
Guest reviews about Alice