Experience the best of
Dubai with Withlocals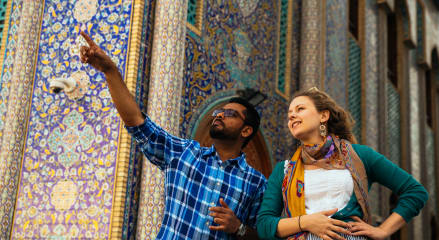 Find the perfect private tour

Select one of our local experts

Enjoy Dubai like a local
Explore Dubai
Let our local experts craft authentic private activities in Dubai. Unforgettable home dinners, mind-blowing cooking classes, exciting wildlife escapades, relaxed leisure activities, mouthwatering food tastings, and workshops that spark creativity. Let our locals hook you up with exclusive activities. Ready to dive in? Your adventure is just a click away!
Top 3 activities in Dubai
Make your stay in Dubai complete with these things to do
With Jose Gomez & Sandy Nat

1

Exclusive Scenic Dubai Tour on a Private Yacht

4 hours • sports & leisure

With Farhan

2

One of a Kind Desert Adventure Experience

5 hours • wildlife & nature

With Sruthy

3

Dubai's Favourite Indian Food Tour - 10 Tastings

3 hours • food & drink tastings
Why you should book a
Withlocals tour
100% Customizable

Let your local host tailor the tour
completely to your wishes.

Private guided tours

No strangers on your tour.
It's just you and your local host.

Responsible

Our tours are designed with
people, places & the planet in mind
Private activities with locals in Dubai
Our locals will give you the best experiences that Dubai has to offer
With Jose Gomez & Sandy Nat

4 hours • sports & leisure

from €206 per person

With Farhan

5 hours • wildlife & nature

from €62.50 per person

With Sruthy

3 hours • food & drink tastings

from €160 per person
Explore Dubai with our incredible locals
Learn about their personal stories and find out how you can explore Dubai with locals
Find experiences by category
Discover experiences based on your interest
Travelers love our locals
What other guests say about our tours and locals
Enjoy the Best of the Dubai
Like a Local
Private & Personalized Activities in Dubai with a local
Hey, fellow adventurer! As you step into Dubai, get ready to dive headfirst into a world of local activities that redefine exploration. We're all about personalized adventures that showcase the best of Dubai through activities that reflect its beating heart.
Imagine having a local buddy eager to show you the ropes of the city's activities scene. That's what our local experts bring to the table. They're the ones who'll take you to hidden home dinners that'll make your taste buds sing, cooking classes that'll turn you into a culinary wizard, wildlife and nature escapades that'll make you one with the outdoors, sports and leisure experiences for those chill vibes, food and drink tastings that'll make your belly do a happy dance, and workshops that'll spark your creativity. Whether you're a foodie, a nature enthusiast, a sports junkie, or an art lover, our local guides have got a whole range of activities up their sleeves to make your Dubai experience uniquely yours.
Here's the best part – it's all about you. No cookie-cutter agendas or places you're not vibing with. With personalized activities, you're calling the shots. Whether you're clicking Instagram-worthy shots, diving deep into local history, or getting artsy, the activity adapts to your groove and pace. Consider it your express pass to the awesomeness of Dubai, guided by a local who knows the city like the back of their hand.
So, next time you're in Dubai, forget the usual routine. Dive into local activities and unlock the city's real magic – the flavors that'll make your taste buds cheer, the stories that'll tug at your heart, and the experiences that'll make Dubai, well, Dubai. It's time to explore like a local – ready to dive in?
Related Dubai pages
You might be interested in these
Activites in Dubai