Experience the best of
Singapore with Withlocals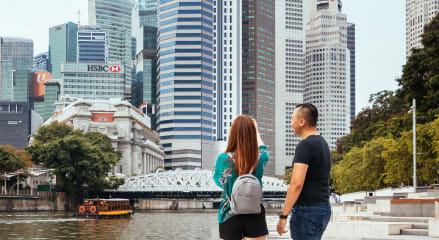 Find the perfect private tour

Select one of our local experts

Enjoy Singapore like a local
Explore Singapore
Let our local experts craft authentic private activities in Singapore. Unforgettable home dinners, mind-blowing cooking classes, exciting wildlife escapades, relaxed leisure activities, mouthwatering food tastings, and workshops that spark creativity. Let our locals hook you up with exclusive activities. Ready to dive in? Your adventure is just a click away!
Top 3 activities in Singapore
Make your stay in Singapore complete with these things to do
Why you should book a
Withlocals tour
100% Customizable

Let your local host tailor the tour
completely to your wishes.

Private guided tours

No strangers on your tour.
It's just you and your local host.

Responsible

Our tours are designed with
people, places & the planet in mind
Private activities with locals in Singapore
Our locals will give you the best experiences that Singapore has to offer
With Kirit

3 hours • home dinners

from €94.12 per person

With Richard

3 hours • wildlife & nature

from €30.59 per person

With Peter

4 hours • workshops

from €64.71 per person
Explore Singapore with our incredible locals
Learn about their personal stories and find out how you can explore Singapore with locals
Find experiences by category
Discover experiences based on your interest
Travelers love our locals
What other guests say about our tours and locals
Vegetarian Dining

"Guest Review: "Food: Very nice, so good and very delicious. Vegetarian food everybody can eat it, it is not too spicy, they asked if it is too spicy, so you can say if it is. Host: Very friendly, very good english, very kind, a very lovely family, from Germany!" "

Bamba

About local KiritSingapore,

December 2018

Vegetarian Style Dining: Finest Indian Food

"Great experience! The hosts made us feel very welcome. The food was amazing and it was really good to experience some traditional food!! Left the home very full!! Love from Scotland"

Vegetarian Style Dining: Finest Indian Food

" It was a nice evening with very good Indian food."

Ma

About local KiritSingapore,

October 2018

Vegetarian Style Dining: Finest Indian Food

"Great to be welcomed into a local families home and share their food. Would recommend" Love from Scotland"

Vegetarian Style Dining: Finest Indian Food

"Guest Review: "We really enjoyed the food here. The family was so friendly and welcoming. Thank you for this wonderful evening. Laura from Germany""

Bamba

About local KiritSingapore,

September 2018

Private Toy Tour & Workshop

"I had initially thought Peter's Toy Experience was a trip to various well-known stores with huge collection of toys around Singapore. Boy, was I wrong. Peter, having been brought up in another generation where toys were made from simple, daily life items such as marbles, feathers, papers, and bottle caps, explained the history of toys through props and activity that are children friendly like folding various types of paper planes in MINT Museum of Toys (What better place to learn toy history than here?). The tour will end at the Tintin Shop located in Chinatown with a bit of history on the cartoonist, Georges Remi and the main characters of The Adventures of Tintin. If you are toy aficionado, a kid at heart or simply looking for something that is children-friendly, look no further!"

Tristan

About local PeterSingapore,

January 2018

Vegetarian Style Dining: Finest Indian Food

"We had a great time eating at Kirit's place. Gopi is a fantastic cook and the food was all wonderful. It was especially nice to get things we hadn't ever seen in restaurants. Highly recommended! "

Chad

About local KiritSingapore,

May 2015

Vegeterian Dinner

"It was a very nice time at the home of the family. They are really friendly and it was nice to meet them. The food was very delicious. I like to try new food, what i don't know before. The food was very fresh and they made everything by themselves(like the yogurt). I would recommend everyone to try this awesome meal! Thank you very much!, from Germany"

Britta

About local KiritSingapore,

December 2018

Vegeterian Dinner

"The family is very kind and friendly. I really enjoyed our lunch at their place. You feel very comfortable. The food is amazing! Everything is very fresh and healthy. If you are a vegetarian it is no problem, because the hosts are also vegetarian. Really recommend!:) Thank you!, from Germany"

Johanna

About local KiritSingapore,

December 2018

Vegetarian Dining

"Guest Review: "Very friendly and nice people, also nice to talk with, good tips what to do in Singapore. Very delicious food, so good. Vegetarian food, could eat everything. They ask about the spice level , so everybody could eat, from Germany""

Sm

About local KiritSingapore,

December 2018
Enjoy the Best of the Singapore
Like a Local
Private & Personalized Activities in Singapore with a local
Hey, fellow adventurer! As you step into Singapore, get ready to dive headfirst into a world of local activities that redefine exploration. We're all about personalized adventures that showcase the best of Singapore through activities that reflect its beating heart.
Imagine having a local buddy eager to show you the ropes of the city's activities scene. That's what our local experts bring to the table. They're the ones who'll take you to hidden home dinners that'll make your taste buds sing, cooking classes that'll turn you into a culinary wizard, wildlife and nature escapades that'll make you one with the outdoors, sports and leisure experiences for those chill vibes, food and drink tastings that'll make your belly do a happy dance, and workshops that'll spark your creativity. Whether you're a foodie, a nature enthusiast, a sports junkie, or an art lover, our local guides have got a whole range of activities up their sleeves to make your Singapore experience uniquely yours.
Here's the best part – it's all about you. No cookie-cutter agendas or places you're not vibing with. With personalized activities, you're calling the shots. Whether you're clicking Instagram-worthy shots, diving deep into local history, or getting artsy, the activity adapts to your groove and pace. Consider it your express pass to the awesomeness of Singapore, guided by a local who knows the city like the back of their hand.
So, next time you're in Singapore, forget the usual routine. Dive into local activities and unlock the city's real magic – the flavors that'll make your taste buds cheer, the stories that'll tug at your heart, and the experiences that'll make Singapore, well, Singapore. It's time to explore like a local – ready to dive in?
Related Singapore pages
You might be interested in these
Activites in Singapore